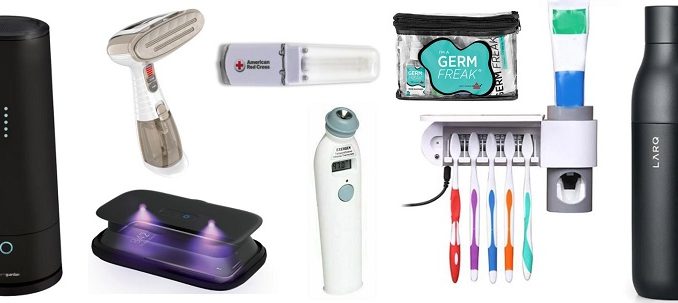 There's an often recited quote by Chuck Pagano that goes like this, "If you don't have your health, you don't have anything".
With news of the Coronavirus spreading, these wise words hold a hell of a lot more weight these days. The fact is, no matter what the snake oil salesmen are telling you, there is no vaccine for, or medicine to combat, this virus. The best and only choice of action for the foreseeable future is to not get it. Period.
Easier said than done, obviously. So the T2BN team is here to say: First, put the toilet paper roll down (srly guys?…one roll of toilet paper lasts the average person 7 days. Google it.); Second, keep washing those hands and Third, let's talk about some real solutions.
It's the 21st century. There's a lot of very cool technology out there that you might want to consider. Also, a word of note that all the products on our list come from reputable brands. That means they've taken the time and effort to test and confirm their products do what they say…
IF YOU HAVE TO TRAVEL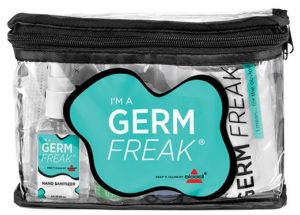 The pouch is clear and all liquids are under 3 fl oz. If you have to travel, this is the kit you'll want by your side. From one of the top names in cleaning, Bissell sells this little beauty only on their website. Besides the average 4.9 out of 5 star reviews, the kit contains a dozen products at the ready for your needs. Sanitizing sprays, sanitizing wipes, hand sanitizer gel, screen cleaners, and some things you maybe haven't thought of, including toilet seat covers, headrest protector, placemat, face mask…even protective gloves.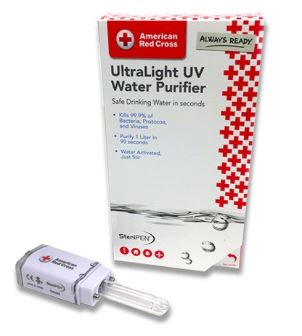 This discreet, handheld version has the Red Cross seal of approval. It's the perfect traveling companion whether going domestic or abroad…anywhere the water you drink could be coming into contact with others. You simply stir the pen in your water bottle or glass for 90 seconds and 99.9% of viruses, bacteria and other creepies are gone. Science, yo!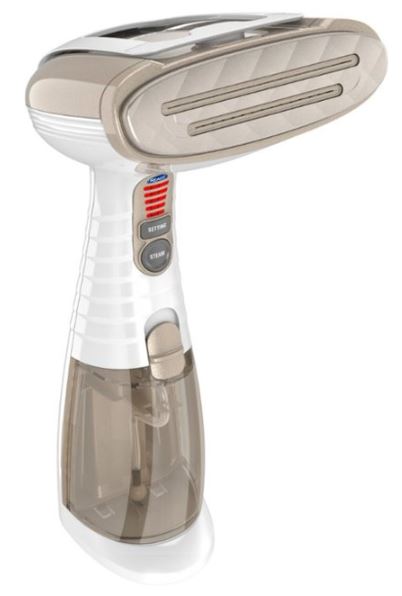 The thing about travel is you're going to come into contact with others who may not be as diligent as you when it comes to sneezing and coughing protocols. Germs are going to adhere themselves to you. On your hands, on your bags, and…on your clothes. Soap and wipes can take care of the first two but what about the last? Often times when traveling we don't have the luxury of constantly washing a suit jacket, tie, dry-clean dress, etc. The good news is, you don't have to. It just so happens the solution is something already available. A garment steamer that reaches 212 degrees F, will kill 99.9% of bacteria and viruses on clothing. Keep it 6 inches from the garment and let it work for about 30 seconds. This version by Conair does that and earned the Good Housekeeping Seal as well.
IF YOU CAN'T WORK FROM HOME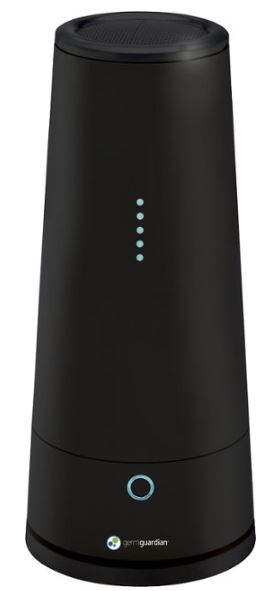 Perfect size for placing on your work desk, or a small table at home. By literally disrupting their DNA, UV-C light is completely safe for humans but deadly to bacteria, viruses (including Covid-19), molds and even spores.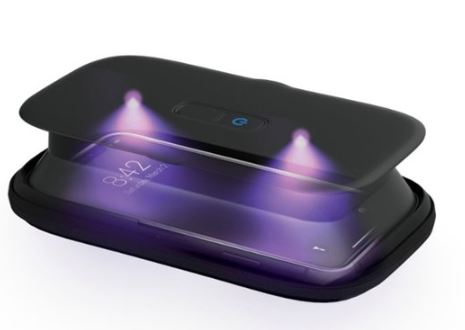 It takes the HoMedics phone sanitizer exactly 1 minute to completely clean both sides of your phone of viruses and bacteria. Completely portable it will last through 70 uses before it needs recharging.
IF YOU CAN'T SKIP THE GYM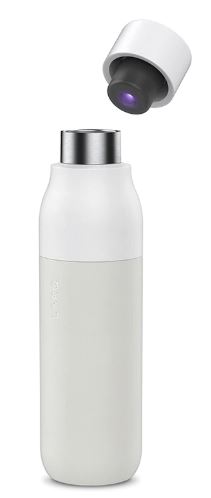 Spoiler alert – that fancy, built-in water filter you have in your reusable gym water bottle? It won't kill flu bugs. For that, you need a water Purifier. Enter the LARQ bottle. Winner of the RedDot 2019 award, this is the world's first self-cleaning reusable water bottle. The technology is in the cap, where it uses a UV-C LED light to eliminate 99.99% of bio-contaminants (including viruses). Comes in 17 oz and 25 oz sizes and 5 color options.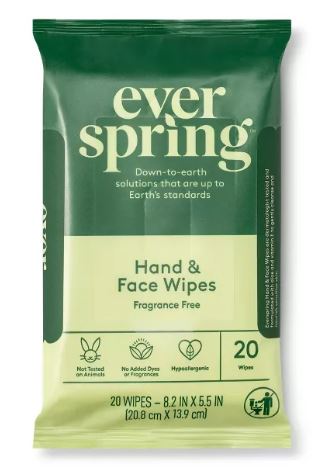 What if technology meant you could take something usually super smelly & harsh (aka…cleaning products) and make them free of dyes, parabens, chlorine and even alcohol and still be effective in sanitizing? What if it could do all that while moisturizing with vitamin # and aloe? The future is here…and it comes in a three pack.
FOR PROTECTING THE HOME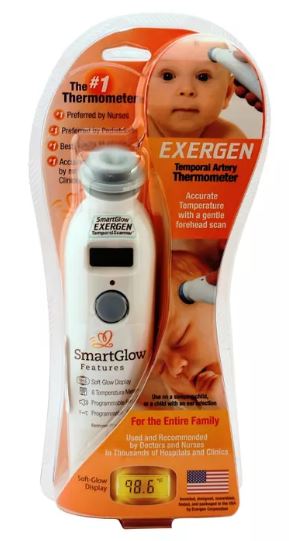 Think someone has a fever but you're not sure? If you're looking for the most technologically accurate thermometer for home use, the experts at the Mayo Clinic will tell you a temporal artery thermometer gives the most accurate reading. And the #1 on just about everyone's list, from nurses to mom blogs to Top 10 tech site lists is the Exergen Temporal Artery Thermometer. Placing it on the forehead for readings, this model is far less intrusive than your oral or rectal thermometer, making it a family favorite, especially for babies (actual and kidults).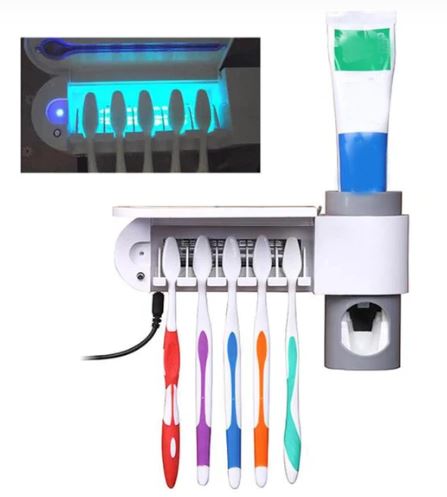 Keep your own mouth clean and prevent cross-contamination with this dispenser and brush sterilizer. It can hold up to 5 brushes and mounts to the wall to save space. The dispenser is activated by placing the brush head into the slot, thereby eliminating any potential of cross contamination between brush users. The sterilizer bathes the brush heads in UV light for 4 minutes every time the brush head door is opened and closed (with automatic shut off after 4 minutes so it's not wasting unnecessary electricity.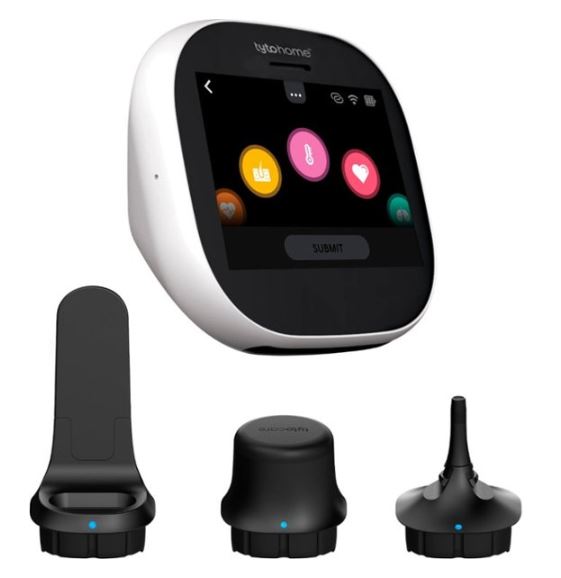 Last but definitely not least…what if you're pretty sure you or a loved one in the house is coming down with something, but taking your chances at the doctor's office isn't something you feel comfortable with? You may want to invest in the TytoHome Medical Exam Kit. This electronic health care device allows you to receive on-demand physical exams via live video chat with a doctor's office using an exam camera and a basal thermometer and otoscope, stethoscope and tongue depressor adapters. This HIPAA-secure TytoCare TytoHome digital device transmits test results to an electronic health record for easy monitoring.