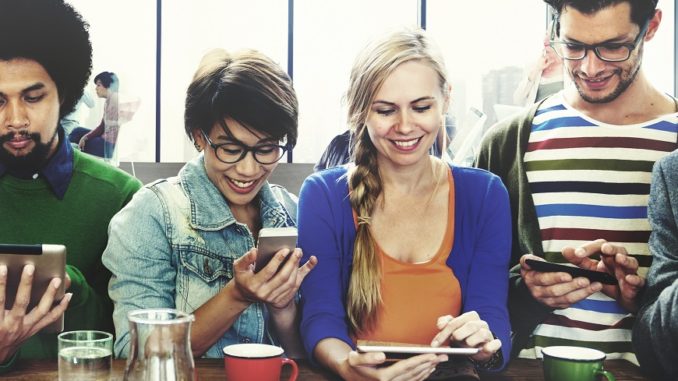 – T2BN Smartphone Team
Time was, moving your device between carriers was a costly process. You gave up a lot, including your contacts, your apps and your number. Remember all those texts "Hey guys, LYK this is my new number. Please delete old."? We sure do. Fast forward to now – phone bills continue to rise, taxes are up, activation fees are higher and unlimited plans are fewer in number. So how do you fight against these rising costs? Well, let's consider – Do you love your current phone? Are you in no mood to upgrade anytime soon? Do you feel most provider's promotions these days are all around getting the next-glorious-smartphone and less about saving you money on your plan?
Enter the BYOP + MVNO revolution. If you've never ventured outside the "big four", MVNO stands for Mobile Virtual Network Operator. These cell phone carriers use the network of one or more of those big four, but offer cheaper cell phone plans, usually via prepaid, and do not require a credit check or contract. Sound good? Let's add to that happy thought, because the other great cost savings here is you can bring your current phone – hence BYOP or Bring Your Own Phone.
Things to Consider
Seriously thinking the BYOP MVNO might be for you? Let's run through a few items to consider…
How do you use your cell phone? – Are you a casual user who mostly texts and never uses more than 3- 5GB data per month? Or do you consider yourself a heavier user, say 8GB a month? Understanding your current needs is really the first step in deciding which plan is best for you.
What kind of phone do you have? – While a lot of carriers with a BYOP policy are flexible, there will be instances where some carriers are not compatible with every phone. Always make sure to check the carrier's policy, especially if you have other devices as well, such as a tablet, smart watch, etc.
What's your SIM? – BYOP plans typically come with a SIM for your service. However, much like it is up to you to check that your phone is compatible with a service, you want to make sure you check your SIM card before you order.
Benefits
Okay, so with your considerations in mind, let's talk why so many people are moving to BYOP MVNO.
Cost Savings – Naturally, this is the main reason why customers consider a BYOP plan through an MVNO. By bringing your own phone over and setting yourself up with an MVNO carrier, you can save hundreds of dollars a year.
You Get to Keep Your Number – When you swich carriers and bring your own phone you also get to keep your contacts, dodging what could be a seriously frustrating headache!
You Get to Keep Your Apps – Probably one of the least favorite chores of a new phone is having to re-download all your fav apps. And when you consider the latest estimates of cell phone users having between 80 and 100 apps on their phone – 40 of which are actively used on a monthly basis – losing even one to the importing gods can really break your week. Skipping that drama is a huge plus.
Switching is Easy – Whether you prefer making the switch online or via call/chat, switching carriers is as easy as confirming your plan and activating your SIM.
Formulating a Plan
Before embarking on any deep dive into Plans, you need to have, well, a plan (little pun there).
How much data do you need? – If you've been blissfully going along with your Unlimited plan thinking you need it, think again. Most users (not counting gamers or heavy streamers) use between 3GB to 5GB. That means you are most likely overpaying. Also one of the biggest little secrets out there when it comes to Unlimited plans is that they are never truly unlimited all the time. Data Deprioritization means that even with the most top-notch Unlimited plan, your carrier is still throttling you down at some point or another. So how do you find out how much data you really use? It's actually a lot easier than you think. It's on your carrier's website under your account statement. Now you could also look under your phone, usually in the Wireless and Networks setting, but that will only get you info for the past 30 days. Much better to get an average for the past couple of months, then add 1GB as a "just in case" bumper.
Start comparing coverage – Don't just take those coverage maps at face value. Everyone wants their coverage to look like the absolute best, so take control and use those map filters. You should be able to check the coverage against things like voice calling, data collection, high-speed coverage, and definitely check against any areas under "partner" or roaming because most MVNO carriers will not support their parent carrier's partner coverage.
Know Your Perks – Speaking of what is allowed and not, you should most definitely get familiar with your MVNO carrier's rules around things such as tethering, international texting, HD voice calls, Wifi calling, etc, etc. Again, best to start with what you know, and that's you! Does your aunt in Mexico expect a text every week? Like to use your mobile as a hot spot? Taking a deep dive into options when you know they are important to you is a great way to prioritize and keep you from wandering down those rabbit holes.
Top Favorites
You've done your homework, you're ready to proceed. We're not going to tell you there is a one size fits all perfect company out there. Sorry not sorry there. But out of the dozens we research over here at T2BN on a regular basis, here are a few of our favorite front runners, including our Editor's Pick. Some may be new to you, but not to the many happy customers who rave about them.
Runs On : T-Mobile 4G LTE
Best For : Most Options for the Best Value
Why You Want It : Formerly Mint SIM, Mint Mobile has been around for a few years now and is probably one of the most well known of the MVNO carriers out there. If you're trying MVNO for the first time, or you're unhappy with the limitations of your current MVNO, this is the service we recommend. Why? First is their allowance of tethering that's included with no separate allotment. So basically if you want to use all your data in one shot, no one is going to stop you (unlike say, Cricket wireless which enforces an 8 Mbps at all times). Second, they allow for Wifi calling and messaging, which can be huge especially when/if you find yourself outside of your coverage. You can use your phone as a personal hot spot…something not usually offered by other MVNO, unless you upgrade to their premium plans (we're looking at you, Metro by T-Mobile). Last, but not least, their easy prepayment service let's you pay upfront for 3 months up to a year if you like. If you're a student, on a fixed income, or just prefer to only have to spend $15 a month on your phone bill, having the prepaid peace of mind is, literally, worth every penny.
BONUS : Hey, iPhone lovers, think only your expensive MNO has that new iPhone 11, iPhone Pro 11 or iPhone ProMax 11?? Think again – right now Mint Mobile is offering unlocked iPhone 11 series at 0% APR for a Limited Time only. Get yours TODAY while supplies last!
Runs On : Sprint 4G LTE
Best For :  Most Flexible Payment Structure
Why You Want It : While the name may not be as familiar, these guys are definitely worth checking out. Founded by entrepreneurs with 20 years of experience in the wireless industry, Gen Mobile has the most honest take out there when it comes to knowing what you're getting. How's that? They are the only MVNO carrier out there we could find that doesn't auto charge you for your upcoming month. Seriously. They contact you first, then with your approval they charge you going forward. You are never obligated to prepay for more than one month at a time. If you're financial situation is such that you're uncertain of month to month, this service gives you flexibility to only pay when you need your phone active.
Cons : Because they run off Sprint network there have been reports of spotty coverage, especially internationally
Runs On : Sprint 4G LTE
Best For : Cheapest all around Plan Offering
Why You Want It : With flexible plans ranging from $5 to $39, Tello is possibly the cheapest wireless carrier all around. For total bare bones you can opt for their 100 minutes, zero data and unlimited text package for $5 per month. Heavier users can customize towards a 10GB with unlimited minutes and text package for $39 a month, or go for one of their ready made plans with options in between.
Cons : To BYOP with Tello your phone must be CDMA-compatible, Customer Service not highly rated, International only includes Mexico, Canada and China
Runs On : Verizon, T-Mobile
Best For : Custom Flexibility
Why You Want It : If total control and a la carte options are what you're craving, US Mobile is your huckleberry. These guys really focus on custom plans. You select your bracket of minutes, texts, data (100 MB minimum required) and just about everything in between. With nearly all phones compatible with them, your BYOP power is strong with this carrier.
Cons : Just like any good buffet, what you get is entirely up to you. Requires you agree to a minimum of 100 MB data for any plan.