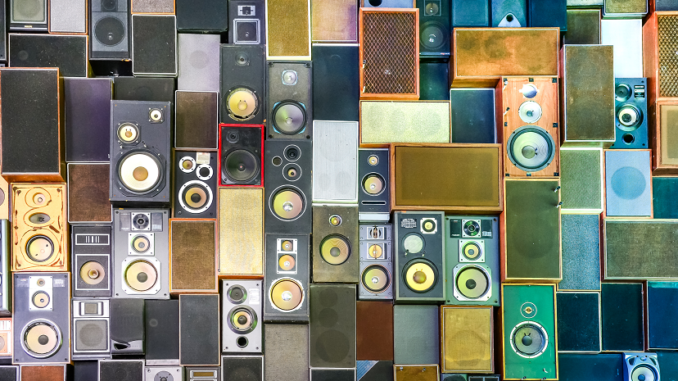 T2BN Home Tech Editor :
It's tempting to focus on chasing the latest cool audio and video upgrades, but when it comes to long term investment for your entertainment system – great speakers are the best upgrade you can do. They may not always be the sexiest solution, but fact is, a great speaker can last for decades (seriously) and still produce the biggest overall effect on the sound of your system.
So what's Your Set up? If you haven't considered it already, first ask yourself, what are you trying to achieve? Is your system primarily for audio, or gaming, or movies and TV, or a combination of two or more of these? Once you have an answer, you can then figure out what sort of setup you need.
Audio – For the simplest room setup, you can get by without a separate receiver by choosing powered speakers with inputs that can directly connect to a turntable or other devices. More likely, though, your speakers will need a receiver to power them, in which case you'll want to make sure you get speakers and a receiver that pair well together (see buying tips below for more detail on that). Bottom line though, for great audio, your real focus is to start with some really great bookshelf speakers and layer your entertainment system on top of it.
Gaming – Even more so than Movies & TV, Gaming is first and foremost all about the visuals. So TV/Monitor placement is king. We won't get into the specifics of optimal TV/Monitor viewing level (there are other articles out there that handle that) but suffice to say, unless you're also using your entertainment area for things other than just gaming, the easiest speaker set up is a high quality soundbar. Because your focus will be 100% on what's happening in front of you, you really won't miss having that audiophile level sound, and certainly won't be thinking "is my bass not quite matching to my treble?" while you're neck deep in Grand Theft Auto 5 or figuring out how to slog through Rainbow 6. We've listed some great soundbars for games in our buying tips below. Save the cash you'd shell out on surround sound and spend it instead on a great CPU Cooler and a core-crushing Processor.
Movies & TV – If you're a diehard Movie and TV lover, speakers are where you're going to want to put your money. A true movie and TV experience usually starts with a five to seven piece sound system. Now, if you're thinking this means you need to turn your room into a mountain of massive speakers that'd make a concert roadie blush, think again. The best speakers in the world are the ones that match to your room space, not necessarily ones that'll make your ears bleed. Quality first. Unsure of how to place them? Check out our article on 6 Set Up Tips For The Perfect Entertainment Center for where to put them.
So let's talk Shopping. When speaker shopping, it's easy to get sucked into a confusing vortex of ratios and specs. Home entertainment is a super competitive industry these days, and everyone wants to tell you why their bells & whistles are better. Take a minute and focus past the over-the-top tech jargon: these are the important ones you need to know.
1 – Frequency Response – Arguably this is the most important spec for a great speaker. Frequency response, has two important variables. First is the range, aka amount of frequencies the speakers can produce from low to high—the wider the range, the better. Second is deviate number (identified with a plus/minus symbol) which tells the degree to which the sound deviates from a flat response – the lower the number, the better.
2 – Sensitivity – This number tells you how efficient the speakers are. In this case the higher the number, the better, but don't go crazy on this one. Anything over 90 dB will work excellently.
3 – Impedance – This is very important for matching your speaker to your receiver. Using your current receiver? Check the manufacturer recommendations or look it up online. Getting a new receiver? Keep in mind this general rule of thumb: speakers with a lower rating like 4 ohms will need a more powerful receiver to drive them, while 8-ohm speakers, which are the most common, will work with most receivers.
4 – Wattage – Probably the biggest, most common mistake when buying speakers. This is important, folks – DO NOT confuse watts for loudness. You're better off getting more efficient speakers with lower wattage than less efficient speakers with a higher wattage.
With that in mind, here are a few speakers that will fit a range of different setups to get you started in your search.
GREAT BOOKSHELF SPEAKERS FOR AUDIOPHILES
Best Price : Klipsch R-15PM
Price : $349.00
Why Buy It : If you are indeed an audiophile, then you know Klipsch. Their higher end Forte speakers have been on everyone's top 10 list since 1985. However, they do come in very steep on the price range. Enter the mid-range model, the Klipsch R-15PM. Lighter than their behemoth older brother, these powered speakers have a built-in phono preamp that makes them great for pairing with a turntable in a simple, receiver-free setup. They're also streaming-friendly thanks to some built-in Bluetooth connectivity.
Best Mid-Level : ELAC UNI-FI UB5
Price : $499.99
Why Buy It : For true audiophiles who don't have a corner office salary, the ELAC UNI-FI UB5 have a downright astonishing level of sound at the $500 level. 5 out of 5 star review on Amazon, these speakers do best with proper placement and a powerful amp.
Premium Quality : KEF LS50 Wireless
Price : $2,199.99
Why Buy It : This full speaker system comes ready to go out of the box. Sound quality is pretty much mind-blowing from low to high ranges. While the initial price tag doesn't come cheap, it comes with everything, so no preamp, amp or DAC needed. Tally up all those costs (and the time you'd need to take to research it all) and really, this system is worth every penny.
GREAT SOUNDBARS FOR GAMERS
Best Price : Sony HT-CT180 2.1 Channel 100W Soundbar with Wireless Subwoofer
Price : $109.00
Why Buy It : Voted Best Soundbar for under $150 by HiTechKing, this wireless soundbar delivers great sound for the cost.
Best Mid-Level : Razer Leviathan – Elite Gaming & Music Sound Bar
Price : $199.99
Why Buy It : The Razer Leviathan sound system consists of a compact soundbar and a subwoofer with an authoritative presence. Together, they create a full-range 5.1 true-to-life surround sound experience powered by the Dolby technology. A dedicated button switches between 3 equalizer presets, fine-tuned for gaming. The system can be connected to an audio source either via Bluetooth 4.0 or an audio cable. The wireless range is around 10 meters (30 feet). If you are looking for a great mid-range soundbar made especially with gamers in mind – this one is for you.
Premium Quality : Sony HT ST5000
Price : $1,498.00
Why Buy It : Dolby Atmos in a 7.1.2 ch, 800W soundbar. Virtual surround sound emulates a natural, 3-dimensional sound field all from single soundbar and subwoofer. Upper end of the price range, but offers quality of sound better than others in the same price bracket. 5 star rating from TechRadar and Crutchfield.
GREAT SPEAKER SYSTEMS FOR MOVIE & TV
Best Price : ELAC Debut 2.0 B6.2
Price : $299.98
Why Buy It : An affordable pair of bookshelf speakers that will sound great on their own or as part of a full surround sound system with some additional speakers from Elac's Debut 2.0 series. These speakers will deliver amazing sound for little out of your pocket.
Best Mid-Level : SVS Prime Tower Surround
Price : $1,549.99 (Full kit minus Subwoofer)
Why Buy It : Fantastic blend of price, performance and great detailed sound. Kit includes two Prime Tower speakers (audiophile grade), a Prime center speaker, and two Prime Satellite surround speakers. Perfect for getting a great home theater sound, and when you're ready to truly shell out the big bucks, for say Dolby Atmos systems, these speakers will have no issue making the upgrade.
Premium Quality : KEF T205
Price : $1,999.99
Why Buy It : These speakers from KEF may be as thin as your 4K TV, but they'll easily fill any home theater with great sound—just be sure to factor in the cost of a decent receiver when considering their already hefty price tag. They regularly rank on half a dozen top 10 lists as part of top-of-the-line home entertainment systems and with good reason – once you've heard these, you may never step foot in a theater again.