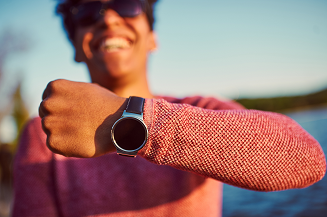 T2BN Fitness Editor: 
What once started out as the humble pedometer has blossomed into a billion dollar industry. These days you can find trackers that calculate the difference between walking, running, biking, swimming and many activities in between. They track your heart, monitor peak performance, even tell you when to meditate and just breathe. Some talk to your smartphone, some of them ARE your smartphone, and with so many varieties out there, choosing one can be about as challenging. At T2BN, we like a good challenge, so we dove head first into this one. Here's our round up for 7 specific areas of our choice, some of which you may not find in other standard reviews…
BEST TRACKER FOR THE PRICE – MoovNow
Why Buy It : You're looking for a reliable tracker that's affordable but still gives you an impressive amount of guided, personalized training feedback.
Price Range : Under $60
Best For : Swimming. It's completely waterproof and can track strokes. Also good for running, cycling, and cardio boxing
Cons : No screen. Not rechargable, new battery needs replacing after 6 months. Replacing battery incorrectly can damage rubber o-ring, making the tracker no longer waterproof. App limited to synching with only 4 other apps (Strava, MapMyFitness, Apple's Health Kit, Google Fit)
BEST TRACKER FOR TRACKING BODY FAT – TomTom Touch Cardio
Why Buy It : You want an affordable rechargable with a screen that isn't just focused on calories burned and steps taken
Best For : The Touch Cardio has a built-in body fat scanner. Press the button on top and it will do a scan of your body fat, highlighting areas where your ratio of flab is higher than what you should have. Battery life runs around 5 days before needed recharge.
Price range : $70 to $100
Cons : Splashproof, not Waterproof. Touch screen overly sensitive. Interface is slow compared to other models.
BEST TRACKER THAT'S A SMARTWATCH – Apple Watch Series 4 or Editor's Deal of the Day, courtesy of Sprint – Apple Watch Series 4 from Sprint
Why Buy It : If you already own an iPhone, getting the Apple Watch is a no-brainer. The cellular version basically allows you to have your fitness cake and eat it to, meaning take calls, check emails, even buy things along the way (if that's your sorta thing…Miss Serena, we're looking at you). It's waterproof with daily fitness coaching, heart monitoring and alerts. The barometer shows elevation and the new Series 4 resolves one of the biggest issue of the Series 3, namely poor battery life. The Series 4 can handle up to 6 hours of workout time. Anybody wanna test that? Be our guest!
Best For : If you like to keep yourself fully connected while working out
Price Range : $399 – $700
Cons : Expensive – the base model starts at $399 and if you add in LTE compatibility plus $10 per mth carrer charge, Apple Care, you're teetering into the $700 range on something that's really a Smartwatch first, tracker second.
BEST TRACKER FOR SERIOUS RUNNERS – Garmin Forerunner 235
Why Buy It : GPS tracking lasts 11 hours plus activity tracking 24/7 for 9 days on a single charge. Built in aerobic Training Effect monitors heart rate zones to keep you in your best zone so as to not hinder training by pushing yourself too far. Progress management shows your time improvements. The app also comes with training programs from 5k up to marathons. Especially cool for Trail runners, the Back To Start feature will work with GPS tracking to easily guide you back to your starting point.
Best For : Serious runners who are looking to focus on improving their heel strike, breathing and endurance
Price Range : $250 – $270
Cons : Race time predictors in the app can be inaccurate if you don't log in your personal data and just use the precreated options
BEST TRACKER FOR WEIGHT LIFTERS – Atlas Shape
Why Buy It : If strength training is your focus, this tracker delivers the best. The 3D motion library has hundreds of reps and sets to monitor your every move, thanks to built in auto-sensors. It senses and tracks the difference between dumbell curls and hammer curls, push-ups versus triangle push-ups…yeah, it's that good. And with that 3D motion monitoring it can correct your form if say, you get sloppy on your burpees.
Best For : Anyone looking to track their Beastmode
Price Range : $99 – $130
Cons : Not compatible with generic USB chargers. Not 100% waterproof. Sleep tracking is limited compared to other competitive models.
BEST TRACKER FOR NEW & CONCEIVING MOMS – Fitbit Versa
Why Buy It : Ladies, the time has come for trackers to do more than just tell us when we need to move. The Versa not only does many actions the Apple Watch does, including wallet-free payments, email notifications (note, it does not have a built in mike so you cannot take calls with it, bummer), and also does a majority of the typical tracker activity. What makes this a great tracker for new moms? How about a New Parent app feature that allows you to log your baby feedings and sleep patterns along with your own mood so you can keep track of baby and you together. It's also waterproof, so if new baby spit-up occurs, feel free to hose it off, no problem. Oh, and speaking of moods, it also has a menstrual cycle tracker that helps you more correctly identify when and for how long your cycle lasts. For those looking to conceive, log your period data and record symptoms like fatigue, cramps, headaches, etc, and the app over time will be able to predict your best opportunity for conception. How's that for tracking?
Best For : Women who want to better track their cycles. Women who are trying to conceive. New Moms looking for ways to better manage themselves and their babies.
Price Range : $100 – $200
Cons : On the pricier end for trackers. Fitbit pay not always compatible with all banks.
BEST TRACKER FOR KIDS – Fitbit Ace
Why Buy It : If you have kids 8+ and are looking to make fitness fun, this tracker delivers. It's showerproof with a slim wristband made for little wrists. It's rechargable with battery life up to 5 days. The app comes with a Parent View and Kid's View, meaning that parents can set up a family account with parental controls over call notifications and GPS location. For kids, it sets activity goals, allows them to track progress, gives them step challenges and rewards them with Badges and fun celebration messages when they have accomplished said goals. There is even a Family Challenge app option that allows everyone in the family to challenge each other to step competitions. Neat!
Best For : Active families who want to involve and motivate their little ones to get up and move
Price Range : $80 – $90
Cons : Children with eczema or similar skin conditions could be irritated by the band if left uncleaned for long periods of time. Fitbit recommends cleaning the bands with water only. This is to decrease any potential irritations to your child's skin from household soaps and/or cleaners.