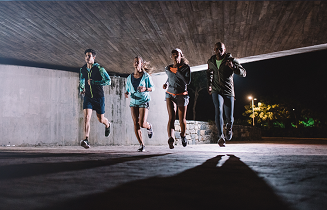 T2BN Gear Editor: 
Whether you're an early bird or a night owl, running in the dark has its challenges. Our field of vision isn't the best before sunrise or past sunset. Hey, it's not our fault, actually NONE of the primates in our immediate family have ever had good night vision. Why? Because we're daytime hunters & gatherers (science, y'all). Bad lighting or lack of adequate illumination only adds to the issue. The good news is, plenty of companies have come forward to help fix this for us, and even for our little running buddies (see "Don't Forget About Fido" at the end of our article). Of course with so many options out there, it's important to research and find what works best. As a T2BN editor and an early morning runner myself, I like to break these solutions into two groups, namely Reflective and Illuminated. Pretty self-explanatory, but Illuminated are products that light up versus Reflective, which contain areas on the product that will catch the light of either headlights, flashlights, street lights (you get the idea) and reflect it back, making you more visible and therefore, protected. Here's my personal culled list of items that I have either used myself or come highly recommended by my fellow night runners…
HEAD BANDS & HEAD LAMPS – Swift LED Running Headlamp & Mission Enduracool Reflective Cooling Headband
Swift LED Running Headlamp
Why Buy It : If you're a runner, I know what you're thinking…where's the top band? No, it doesn't have one, but what it does have is 2 smaller bands that can independently wrap around your head versus that one big thick strap that tends to slowly creep down your forehead around mile 3. I was skeptical too, but somehow this guy stayed on my head without need for adjustment well past mile 6. Also, I noticed I don't get the same forehead "pinch" issue as I do with the larger straps. The waterproof, foam-padded harness headband has 4 light modes, including Flood High, Illuminate Low, Red Safety Light and SOS Strobe. The lighting is controlled by One Hand activation and at a mere 2.8 ounces, you're less likely to get the uncomfortable head weight as with heavier models.
Price : $38.29
Pros : Super lightweight, easy adjusting to head size before and during run. One hand activation of lighting modes. Foam padding behind light & battery pack.
Cons : Not plug-in rechargeable. No center band for top of head (extra stability for elevation running).
Key Specs : 30 lumen max output. 120 Hour max burn time. Waterproof. Runs on 2 AAA batteries. 2.8 oz.
Mission Enduracool Reflective Cooling Headband
Why Buy It : If you're more of a twilight to dark runner, sometimes you need a little extra relief. When wet, this band stays cool and when dry is soft and absorbent. It also has UPF 50+ protection – a quick reminder that UVA radiation is most damaging in early morning and late afternoon since UVB radiation is much less (that's the radiation that triggers your body to produce Vitamin D to protect you).
Price : $14.99
Pros : Great for keeping sweaty hair out of your face and if dipped in cold water, then snapped, should keep head cool for over a half hour. Lightweight but fits well. Nylon in fabric helps keep shape.
Cons : One size fits all, so larger heads may find it snug.
Key Specs : 80% Polyester/20% Nylon. UPF 50 protection. Chemical free. Weight 0.3 ounces. Comes in 4 color options – Gray, Blue, Yellow, and Red.
RUNNING VESTS – NoxGear Tracer360 & Xinglet™ Reflective Running Vest by Amphipod
NoxGear Tracer360
Why Buy It : With 5 star ratings from just about everyone, the Tracer306 is the gold standard for illuminated running vests. It's both retroreflective and illuminated, super lightweight and comes in over 8 colors. Mens and Womens sizes are available so no need to try and calculate the standard S, M, L = what? equation. It lasts for 40 hours on 1 battery
Price : $69.95
Pros : Always Bright Illumination keeps the light at maximum for your entire run. Sweat resistant and waterproof. Lightweight at 7 ounces. Fully adjustable to fit t-shirt or jacket.
Cons : Not plug-in rechargable. Some owners have reported having to remove the battery in order to turn the Tracer completely off.
Key Specs : Adjustable belt. LED fiber optic illuminating cable, 7.0 oz. 3M® Scotchlite® reflective material on belt. 40 Hour battery life on 3 AAA batteries. Low Battery notification.
Xinglet™ Reflective Running Vest by Amphipod
Why Buy It : With 360 degree visibility the Xinglet is up to 40% more reflective than standard running vests. Fully adjustable for height and waist size, this vest comes with high marks from several running organizations. Soft, chafe-free and fully breathable, it is weather and sweat-proof.
Price : $29.95
Pros : Minimalist design great for all weather visibility. Chafe-free. Waist belt fully adjustable from XS to XL. 360 degree reflective coverage.
Cons : For smaller sized individuals, you could see some gap and looseness as it is one-size fits all. Buckles are plastic and thin, which could break with rough use. Reflective material is painted on, so again, super rough use may lead to flaking.
Key Specs : Ultra-reflective material 40% more brilliant than standard running vest. 360 degree reflectivity. Front access quick-clip release. One size fits all adjustable.
SHOE LIGHTING ACCESSORIES – SLDHR LED Shoe Clip Lights & Nathan Adult Reflective Run Laces
SLDHR LED Shoe Clip Lights
Why Buy It : When your favorite reflective shirt is in the wash or maybe you forgot to buy batteries for your illuminating vest. Or maybe tonight is the night you decide you'd like to take your fav pooch out for a quick night run but don't have a reflective vest for them. These little guys clip on and stay on with the help of high quality memory metal. They have 2 options of steady or flashing light output and come in three color choices – blue, green or red. They can be used on heel, wrist, arm or clipped on dog harness. And perhaps the best part of all – they are USB rechargeable, so no more having to purchase batteries.
Price : $13.99
Pros : LED bright with steady or strobing options. USB rechargeable. 30 hours of continuous lighting on 1 charge.
Cons : Water resistant, not water proof. While rechargeable the included battery is Lithium ion which is not the most environmentally friendly. Heel width is maxed at 3.5 inches
Key Specs : 3.7 ounces. USB rechargeable. Comes in pack of 2. Charging time from empty to full is 1.5-2 hours and once charged, offers 30 hours at steady light or 50-60 hours in flashing mode.
Nathan Adult Reflective Run Laces
Why Buy It : Most runners these days prefer Run Laces (aka non-tying) which are easier to put on/take off and won't come untied. If this is you, why not go the extra step (pun intended) and get laces that also reflect traffic light? For less than 10 bucks, you can grab a pair of Nathan's Reflective Run Laces and have one less thing to worry about when the sun starts to set. Quick Editor's Note : there are plenty of reflective shoes out there too, but here's the thing – I buy my shoes because I want the make/style that works best for my run, period. If you can find your favorite running shoe in your style and it's reflective, great job man. But please, don't go shelling out good money on a reflective shoe only to find out later that it's not right for how you run. That's IMHO on that…
Price : $9.99
Pros: Inexpensive option. No batteries necessary. Fastening system is easy, one-time setup install.
Cons : Only reflect when traffic is coming towards you.
Key Specs : Nylon elastic cord. Hand wash. Comes in 5 color options – Purple, Blue, Yellow, Black and White.
RUNNING HATS – Panther Vision PowerCap 25/75 LED Lighted Running Hat & Headsweats Reflective Hi-Vis Race Run Hat
Panther Vision POWERCAP 25/75 LED Lighted Running Hats
Why Buy It : There are led hats and then there are these. Panther Vision doesn't just take a hat and add lighting. They angle 2 of the LEDs downward at footfall range and angle the other 2 forward ahead for distance and visibility. I've used this model myself on a few trail runs and have never felt safer.
Price : $29.99
Pros : Extremely comfortable. Moisture-wicking. Light-weight 4 panel design with a built in sweatband
Cons : New batteries must be purchased from manufacturer. Lights on/off are not independent of each other, so either all ON or all OFF.
Key Specs : 100% polyester mesh. Velcro back strap. 48 Lumens light output. 3.4 oz. Battery life up to 68 hours. Comes in 3 color choices for Men, 2 color choices for Women.
Headsweats Reflective Hi-Vis Running Hats
Why Buy It : Headsweats specializes in great headgear and their High Visibility Reflective hats keep you comfortable and safe. They come in bright neon colors for daytime visibility and have Eventure™ reflective fabric trim going all the way around the hat. The terry sweatband keeps you cool and transfers moisture away while the lightweight polyester drys fast.
Price : $23.00
Pros : Great for the price. Gives high visibility both day and night. Superior hat fit with men and women sizes. Back velcro strap ensures perfect placement. Black undervisor reduces road glare. Does not shrink with washing.
Cons : Because it wicks moisture from your head, it will be wet when you take it off. Only comes in solid colors, so may look a little boring.
Key Specs : Polyester shell with Terry sweatband. Weight 2 oz. Adjustable rear buckle with ponytail opening. Machine washable, air dry. Dries four times faster than cotton. Comes in 3 color options for Men – Orange, Green and Yellow, and 2 Color options for Women – Pink and Coral
DON'T FORGET ABOUT FIDO! – Noxgear LightHound LED Illuminated & Reflective Dog Harness & Ultra Paws Ultra-Reflective Safety Dog Vest
Noxgear LightHound LED Illuminated & Reflective Dog Harness
Why Buy It : Just because your 4-legged friend can see better in the dark than you can, doesn't mean they're safer at night. Remember most of the danger of running at night isn't necessarily your pooch, it's everyone else. Made with industry-leading reflectivity and tough, high-visibility, military-grade Cordura fabric, this all-season harness is lightweight, weatherproof and machine washable. It illuminates 360 degrees to keep your fur friend in view of others and yourself, at all times. It's simple to put on and adjustable for a comfortable fit, plus the strong zinc alloy leash attachment ring is secured by nylon webbing and reinforced stitching for even more safety while they are on the leash.
Price : $59.95 (for large dog)
Pros : Micro-USB rechargeable LED lights feature 14 selectable colors (including multicolor flashing and solid color modes). Provides advanced illumination from every angle. Lasts up to twelve hours. Easy removal.
Cons : Leash clip is on the back only, so dogs used to "gentle leader" leashes may find pulling easier to do. Batteries should be removed before washing.
Key Specs : Nylon with On/Off battery pack located on dog's back. Comes in sizes Small (under 15 lbs), Medium (14-75lbs), Large (76-90 lbs) and XL (90+ lbs). Comes in 14 colors
Ultra Paws Ultra-Reflective Safety Dog Vest
Why Buy It : Unlike some dog vests, the Ultra Paws is full-body reflective at night, for optimum visibility. It's also brightly neon, making your pet extremely visible in the daytime too. This vest gives your pooch the best of both worlds. Adjustable neck and girth with quick snap closures so it's easy to take on and off, it's light weight, breathable and comfortable for your dog, allowing full body movement.
Price : $19.95 (for Large dog)
Pros : Fully reflective. Easy on and off with snaps. Doesn't restrict movement. Made of durable nylon. Machine washable (cold only)
Cons : Not dryer safe. Max size of XL is up to 100 lbs only and may not fit larger dogs with greater than 38 inch chest. Also smallest size is suitable for 15 lbs or above only.
Key Specs : 100% Nylon. Machine washable. Sizes available for Small (15-30 lbs), Medium (30-50 lbs), Large (50-70 lbs) and XL (70-100 lbs). 2 Color options – Yellow and Orange