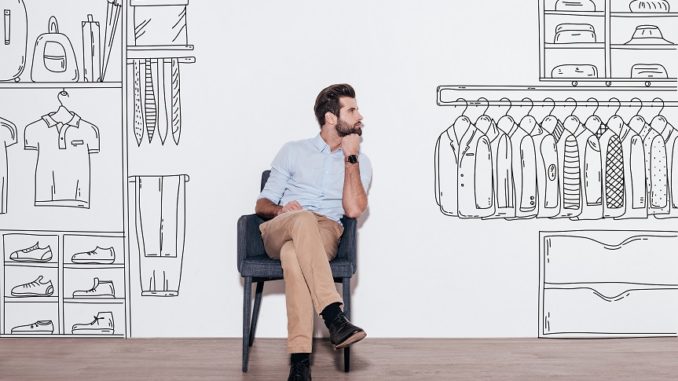 -T2BN Guest Editor
Full disclosure, I've got a serious love/hate relationship with Spring. On the one hand, the weather is finally getting decent (you heard me, Polar Vortex) and that gets me excited for heading outdoors, spending time with friends and just enjoying all the fun that comes with warmer climates. On the other hand, there's that moment of dread as I approach my closet to peel back the layers of long sleeves and hoodies. I take a good look at last year's stock of clothing, and yeah, it hits me…I gotta go shopping.
Don't get me wrong. I like to look good and keep up with the trends. I'm also a bit of a workaholic with my fair share of side hustles (paid  or otherwise). So I do a lot of my purchasing online…and a lot of my returning online. Every time I go through this I think : It's the 21st Century folks, why is there no solution out there for a super busy guy like myself to have clothes that I like, that fit great and doesn't require me to spend hours hunting around?
Enter The Menlo Club. For those of you who aren't familiar, they're a clothing club, one that specializes in helping guys like me, who are too busy to shop but still take pride in looking as good as I can. They've been around for a while, in fact you probably know them by their other brand name Five Four. They started in Los Angeles and work with several big name brands such as New Republic, Grand AC and Oshenta. If you've ever been curious about these clubs and are interested to try, I'll say that right now is the best time to test it out.
Once a year, and only once a year, on the official "birthday week" of the business, The Menlo Club has their Menlo Club Anniversary Promo. It's their celebration, but you get the gifts. Starting today and running till May 6th (so hustle or you'll miss it) you get $25 on your First Month Package (normally $60). 58% Off isn't good enough for you? Fine, they also kick in a free pair of shoes (~$65 Value), and a free pair of socks ($5 Value).
So how does all this work? Well, pretty straightforward really. First, you take a quick survey, asking about your style. Then you input your measurements (top, bottom, shoe…they're thorough on this) and set up how often you want to receive. Confirm your payment and that's it. You should start getting your first items, usually 2 items per month and every month is different. Plus easy size exchanges, free shipping, and you can pause or cancel anytime.
Okay, so what kind of styles are we talking about here? The three basics to choose from are Classic, Casual and Forward. If you can't choose between them, there is also a Mix option. As the name implies, Mix gets you a little bit of everything. Tell me more, you ask? I'll do you one better and show you. Here's a few items pulled from their collections…again, remember that everyone's box is a little different, and they're always updating from season to season. With that in mind, these are some that I've broken down loosely into my own little sub-categories of : Work Mode and MOD (aka Man Off Duty)
Classic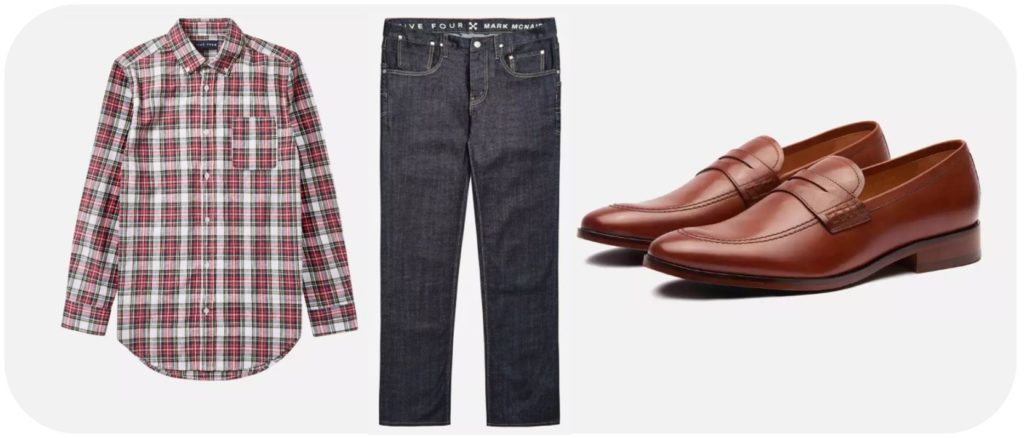 First up, let's look at this combo. I personally think this is a perfect outfit for a Classics kinda guy looking for an easy office look. Lightweight, linen blend button down. Dark, straight fit jean from the Five Four x Mark McNairy collection plus a great pair of napa leather New Republic penny loafers in burnt tan. If I were to purchase all three, I'd probably set myself back a good $150 easy. Not to mention the time involved in tracking them down. Seriously…so much easier to spend less than half that and have it delivered to my door.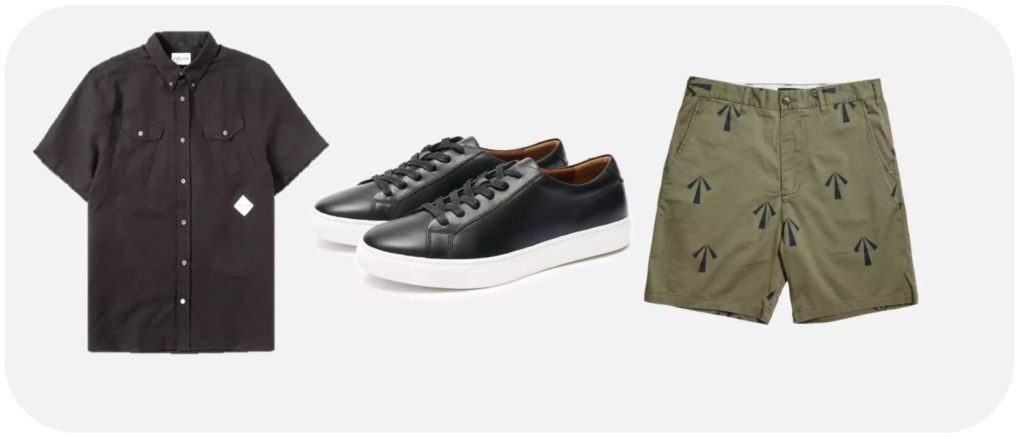 This second pairing is Classic, but clearly for your off duty days. Again, linen blend shirt (quality here, guys) in a nice military inspired style. The shorts, another great find from the Five Four x Mark McNairy collection that hit the mark for me (perfect length a bit above the knee). These Kurt Leather sneaks from New Republic though, seriously check the box for me, not to mention GQ and Esquire rated the Kurt Sneakers as the best leather sneaker for under $100. I'd wear them with just about everything.
Casual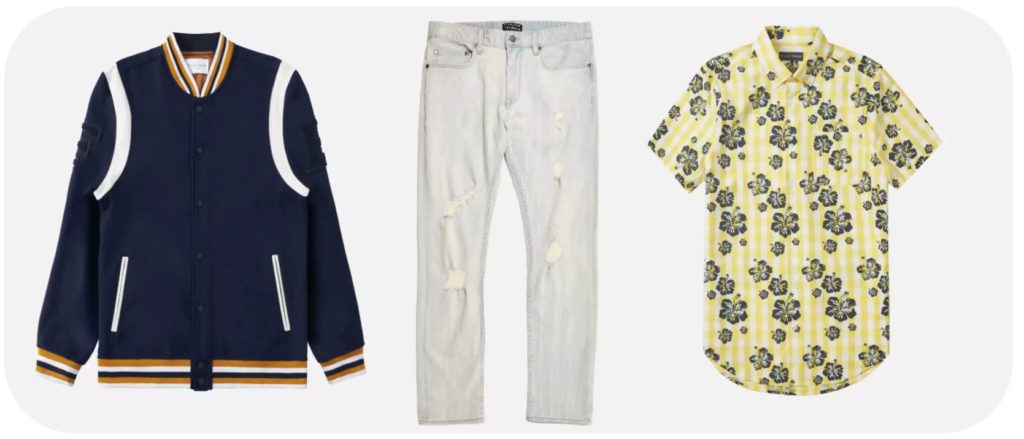 Being honest, I'm a Classics kinda guy. But these Casual items, I'd wear in a heartbeat. The minute I saw the varsity jacket, I had the same reaction as the Kurt leather sneaks…that's a keeper. The Five Four light blue, distressed jeans have just the right amount of rip, and the yellow short sleeve Hawaiian print is a total go-to for the office and any after hours events where I need to look chill, but still presentable.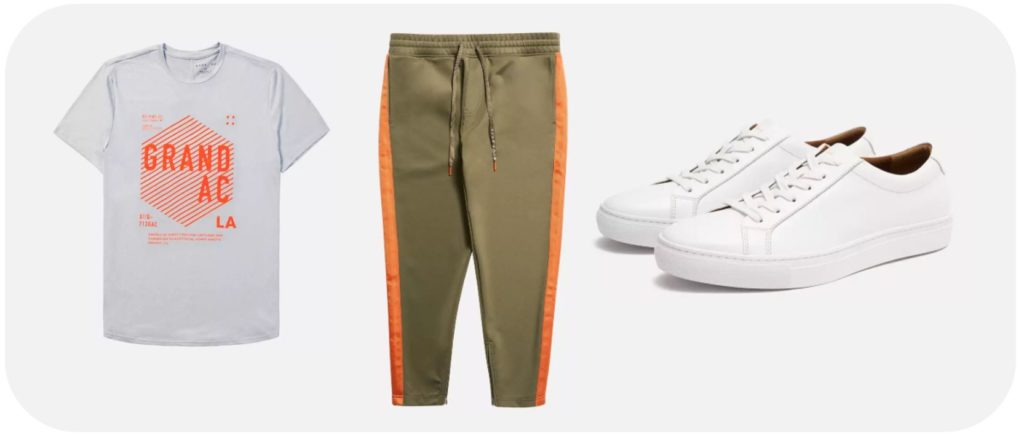 Okay, Casual, now you're really starting to get me. This outfit is so freakin me. Minimal white sneakers? Check. Awesome graphic tee that doesn't have some design that I'm gonna see literally everywhere else? Yup. But these track pants…home run. I'd call this entire look a 3-pointer.
Forward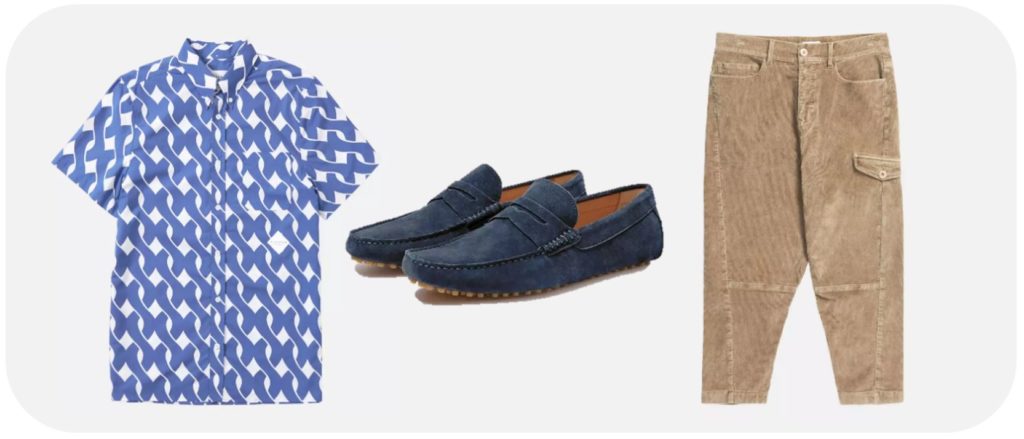 So yeah, I'm a Classics guy. But that doesn't mean I don't go outside my comfort zone. Listen, there are plenty of styles out there that I'm intrigued to try. Problem is, I don't always follow through since, y'know – workaholic boy needs to focus. This is the perfect example of why The Menlo Club is such a great buy.  See those dropped crotch cargo cords? If I saw them by themselves, I'd probably be thinking "it's boss, but what'd I put them with?" and then go back to taking over the world. Because the club pairs these items with equally cool items that go with that style, you don't have to sit there stumped between the yay or nay. The twisted textile print shirt and navy suede loafers make this outfit tight.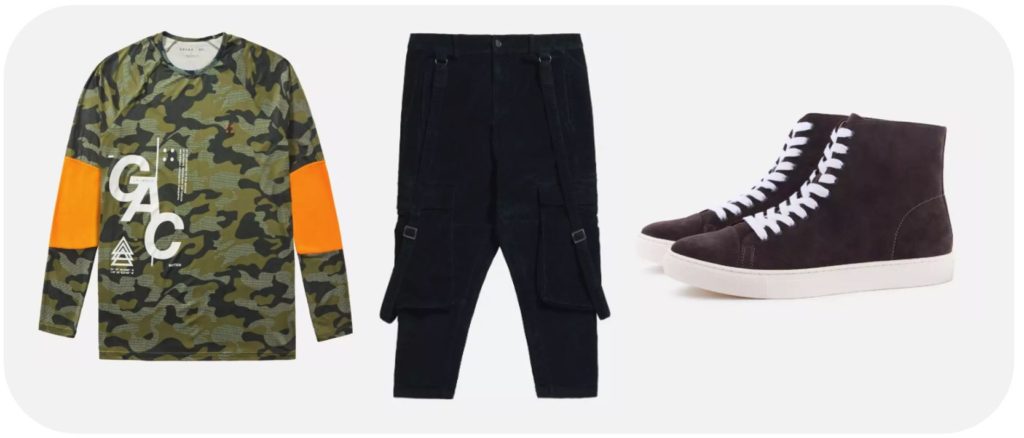 Alright, I saved the best for last. This is the kind of outfit I'd see on someone else and start second guessing my choices of maximum work focus. In my downtime, I don't wanna always look like my office clone. The Grand AC camo-plus-orange top and these New Republic high tops give off street vibe. Nice. But put 'em with those Five Four black cords and it's hip-hop meets grunge punk in the best possible way. No doubt I would never have picked these by themselves.
As if all the above wasn't enough, when you become a Menlo Club member, not only are you getting great value with your package each month, but you also get a 20% discount and automatic free shipping on all add-on items from the Menlo House store.
This is why having a service like The Menlo Club is key for a guy like me. If you're the same kinda work focused but want to look good guy as me, consider giving it a try. Like I said in the beginning, The Menlo Club Anniversary Promo is going on NOW dude.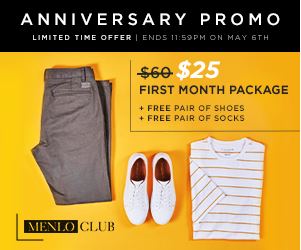 A little work on the front end and you'll be glad every month going forward when that new shipment arrives.